I'm sorry I haven't posted in quite sometime. Losing my doxie Buddy was just so hard on me and then I dove right in getting an 8 week puppy which has been so hard. He is taking up so much time and then I get so tired and just can't seem to get in here to the computer. In fact I just haven't had the desire for awhile. Things are getting better though so maybe in a month or so he'll calm down a bit and not require so much attention. He is doing so well in the potty training except for his pooping. He just does it in the house and when I take him out he just won't do it. He waits it seems till he is inside. Luckily he doesn't have loose stools and the clean up is not hard, just time consuming. lol. Then he has tons of toys to chew on, but he prefers to play with me, getting into tussles and actually nipping to much at my hands. So far no serious scratches, but boy his little teeth are so sharp! We named him Curly because his tail curls up over his back. He has the definite look of a Terrier, the Yorkshire, but his hair is not long and his has a beard around his little face, but it's not thick and kind of hard to see in pictures. I haven't had much success getting to many pictures cause he is always on the move, lol. Marge wanted to see a pic and though I posted this before I will do it again and I have one of him playing with his rope. He will run after his toys, but as yet doesn't understand to bring them back to me to throw them again or play tug of war, which is his favorite.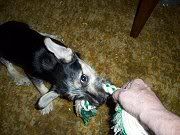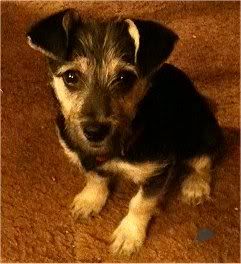 My little Curly or sometimes I call him Curly Top.
As you can probably imagine me den is a mess, I could vacuum every hour to keep up with him and his chewing things he finds that I have to take away. I just hope to be able to break him of the habit so he doesn't become the destructor that Buddy was, lol...
Preston has been here quite a bit due to teachers meetings and etc. Which is fine as I will be keeping him during the summer. We went in with his mom and dad and got him a bigger bike for his birthday and then his old bike, which is in good shape is out here so he'll have it to ride this summer. I'll have to show him how to tie Curly to the handle bars so he can take him with him at times. Then JD has a new outside dog named Blue. He isn't a pure breed heeler but that is the dominate breed in him and he is big and so stocky. I am having to teach him to stay at arms length from me because one good bump and he'll knock me down. He is as sweet as he can be though, a very gentle nature and loves to be petted and sit practically on top of you, lol.. At first Curly tried to engage him in some very strong frisky play. Blue would just put up with him and then one back and snip and Curly is out of there, lol. He loves to chase him and run with Blue, but Blue is very laid back and stays up around the house all the time real well. Curly, well I have to keep him on a leash or he take off for who knows where, lol. So as you can tell I have my hands full with dogs for the moment. I just keep telling myself it will all turn out for the best in time.
Last Friday they celebrated Preston's Birthday at school and also had an egg dyeing and hunt for Easter. Here are a couple of pics that Emily shared with me. I can't believe how fast they grow.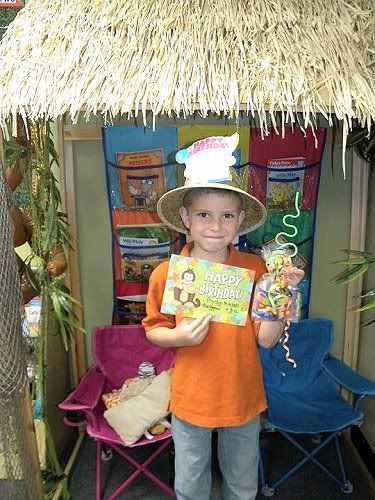 The Birthday Boy!
Mom and Son dyeing Easter eggs
I will be around visiting. Thank you everyone for stopping by. I am back now and hopefully will be able to post more often again and visit. I miss it, but I just felt sore, tired and worn out every evening to even eat. Not sleeping well either. Seems my mind need to just keep working when I am trying so hard to relax and sleep. I often need something to motivate me to get up and get busy doing. I ran across this Chinese rhyme that got me to thinking. *smiles*
This one makes a net, this one stands
and wishes.
Would you like to make a bet which
one gets the fishes?
Catch you all later, till then.........

Love and Hugs,
Nancze & Preston